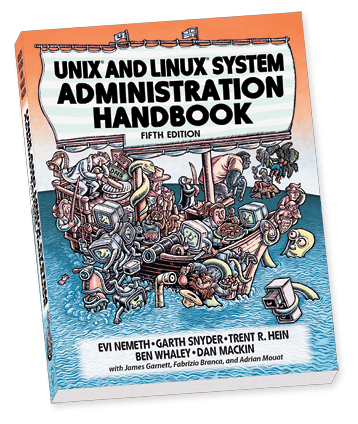 "I recommend this book for anyone administering UNIX or Linux systems."

David | 15 reviewers made a similar statement

"It's well written, easy to read and very informative."

Gary L. Roach | 12 reviewers made a similar statement

"Best Linux book I have purchased ever to date."

Josh | 15 reviewers made a similar statement

We are pleased to announce the completely updated twentieth anniversary edition of UNIX and Linux System Administration Handbook! The book is published by Prentice Hall and is currently in its sixth printing.
"As an author, editor, and publisher, I never paid much attention to the competition— except in a few cases. This is one of those cases. UNIX System Administration Handbook is one of the few books we ever measured ourselves against."
— from the Foreword by Tim O'Reilly, founder of O'Reilly Media
"This is a comprehensive guide to the care and feeding of UNIX and Linux systems. The authors present the facts along with seasoned advice and real-world examples. Their perspective on the variations among systems is valuable for anyone who runs a heterogeneous computing facility."
— Pat Parseghian
About the book
In addition to comprehensive updates and the addition of scores of new topics, this twentieth anniversary edition of the world's best-selling UNIX system administration book has been enhanced with coverage of several leading Linux distributions: Ubuntu, openSUSE, and Red Hat Enterprise Linux.
This book approaches system administration from a practical perspective and is an invaluable reference for both new administrators and experienced professionals. It details best practices for every facet of system administration, including storage management, network design and administration, email, web hosting, scripting, software configuration management, performance analysis, Windows interoperability, virtualization, DNS, security, management of IT service organizations, and much more.
UNIX and Linux System Administration Handbook covers the following operating systems:
Ubuntu

®

Linux
openSUSE

®

Linux
Red Hat

®

Enterprise Linux

®
Oracle America

®

Solaris™


(formerly Sun Solaris)

HP HP-UX

®

IBM AIX

®
News, reviews, and media coverage
Saturday, December 17, 2011
TechSource Selects ULSAH4E as "Most Highly Recommended"
TechSource's Abhishek has named UNIX and Linux System Administration Handbook a "most highly recommended" Linux book. You can see the complete list here, along with comments for each entry.
Monday, July 12, 2010
LWN.net Interview
We were fortunate to have the opportunity to talk with Jonathan Corbet of LWN.net about our new edition and the state of UNIX and Linux generally. It was an interesting discussion!
Thursday, May 10, 2007
Free Software Magazine Reviews Linux Administration Handbook, Second Edition
This review of our previous, Linux-specific, edition describes our general approach to the topic of system administration. Although there are several entirely new chapters in ULSAH4E and several others that have been rewritten from scratch, the general flow and structure remain similar to those of LAH2E.